The Formadri collection consists of a range of lighting, vases, furniture and Bins
Formadri lamps come in various designs. The iconic Basic Dome is our signature lamp and comes in many versions. Other lamps in our collection are the Bell Dome, the Ball Dome, the Oval, the Space and the Zen. Each lamp has a unique shape and is offered in various colors and sizes to meet various lighting needs.
Besides our lighting products, Formadri offers a line of furniture products. Each piece of furniture has a truly unique design.
We regularly update our collection with new designs or models. Please contact our sales department to get an update on our latest designs or to learn more about customizing our products!
All our products are sustainable and recyclable!
Circular production and design is central to our mission: being amongst the most eco-friendly lighting companies in the world.
We design and engineer our products to be produced from recycled materials and to be ready to recycle at the end of its "useful life". Our products are 100% made in Holland.
Our Denim lamp is made from a mix of used jeans and recycled plastics giving it its distinct indigo color.
Our Eco lamps have an extraordinary open structure and are created from recycled plastics.
The transparency of these shades disperses light to its surroundings. Depending on the light bulb used, it creates a spectacular view at night.
We can even make your products from your own collected recyclables!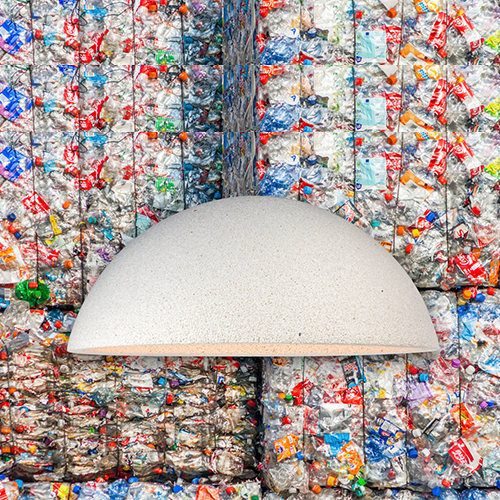 Our planet loves circular products…
Our Basic Dome is an icon in lighting. The perfect shape combined with the excellent light distribution made this light fixture an almost everlasting design.
The Basic Dome comes in many versions and is highly suitable for customization in professional environments.
Our Basic Dome comes in three different models: Basic Dome, Basic Dome Rib and Basic Dome Eco.
Please read more about the variations and possible customizations of the Basic Dome on the Collection page.
Founded in Amsterdam, Formadri has been a true exponent of Dutch Design. Simplicity, functionality, and the courage to keep experimenting characterize our designs. Our ambition is to elevate these essential elements into new bold designs that complete any space.
The Formadri brand name is a composition of Form and Adriaan representing the importance of shape along with the legacy of our founder and designer Aad Verboom. The Formadri brand was launched in 2017, although some of the designs date back to early 2000.
Formadri designs and produces lamps and other furniture products. Our designs are marked by durability, craftsmanship and high quality.
We strive to minimize our environmental footprint and to make our products fully recyclable. All Formadri products are made in The Netherlands.